PCA Potomac Annual Picnic and Family Fun Event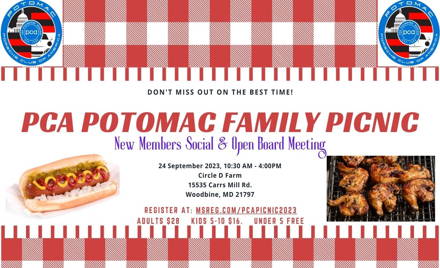 PCA - Potomac, The Founders' Region
Sunday, September 24, 2023
Circle D Farm
,
Woodbine

,

MD
Registration closed September 21, 2023 11:59 PM at 2023-09-21T20:59:00-0700 Registration ends September 21, 2023 11:59 PM at 2023-09-21T20:59:00-0700 Registration opens July 11, 2023 12:00 AM at 2023-07-10T21:00:00-0700 Registration runs from July 11, 2023 12:00 AM to September 21, 2023 11:59 PM
Please join us for PCA Potomac's Annual Family Picnic, Open Board Meeting, and New Members' Social on Sunday, September 24, 2023. Circle D Farm is located in the rolling hills of Howard County, MD (15535 Carrs Mill Rd, Woodbine, MD 21797). We will have access to mini-golf, tennis courts, volleyball, basketball, softball, horseshoes, a Gaga ball pit, and a fully covered picnic area with indoor restrooms. All balls and equipment will be on-site, just bring yourselves and the family!
Price includes a full picnic luncheon including grilled chicken, hamburgers, beef hot dogs, veggie burgers, veggie beans, coleslaw, potato salad, macaroni salad, ice cream sandwiches, non-alcoholic drinks, beer, wine, and all the fixings! Information about the farm and activities may be found at: http://www.CircleDFarm.com.
The picnic will feature an entertaining Car Show! Unlike most Concours, you do NOT need to spend hours detailing your car. Attendees will vote on a variety of categories, such as the PCA Family award, the "No Brainer" award (best daily driver), Kid's Choice award (selected by voters under 17 years of age), People's Choice award (you know the drill for this one), Most Fun to Drive award (the car you would most like to drive), Most Beautiful Color award (this is a real tough one!), the PCA Spirit award (the car best promoting the Porsche Club), Speed Demon award (the fastest you have ever driven the car you brought, under or, um, over the limit), the number of years of PCA membership, length of ownership for the car brought and, finally, Most Clever License Plate. While awards will be presented for each category, they will not be our typical fancy trophies. Rather, they will be fun framed pictures representing the individual category.
We are also pleased to offer Operation Safe Kids sign-ups! In 1997, the US Secret Service established the Operation Safe Kids initiative to bring child safety awareness to the public. Through this initiative, the US Secret Service provides parents with an information card about their child, including biographical data, a current photo, and inkless fingerprints. If the child is ever reported missing, lost, or abducted, critical information can be retrieved quickly from their parents. Here is the link to the website https://www.secretservice.gov/NCMECpartnership
Make plans to bring your Porsche and your family for this fun event!
Arrival (coffee available): 10:30 a.m.
Open Board Meeting: 11:00 a.m.
Picnic: 11:30 a.m. - 4:00 p.m. (food served from 11:30 a.m. to 2:30 p.m.)
Adults: $28 per ticket
Children 5-10: $16 per ticket
Children under 5 are free.
If you have any questions please e-mail: social@pcapotomc.org.
Schedule
10:30 AM Arrive via the PICNIC ENTRANCE and get car show placards and ballots in the parking lot (gravel and/or grass) nearest the picnic Pavilion
10:30+ Registration, Coffee, name badges, and Porsche Juniors items (Pavilion)
11:00-11:30 Open Board Meeting and Overview of Club Activities for New Members (Pavilion)
11:30-12:45 All-in-Fun Car Show Voting (Parking Lot Near Pavilion)
11:30-2:00 Operation Safe Kids Sign Up (Pavilion)
11:30-2:30 Lunch (Pavilion)
12:45 Ballots Due for Car Show (Pavilion)
1:15 New Member Welcome, Raffle Prizes (Pavilion)
1:30 Car Show Awards
4:00 Farewell